By Yao Liyan, Dane Claussen and Peng Cheng
Originally from http://en.shisu.edu.cn/news/2014/2014,news,003606.shtml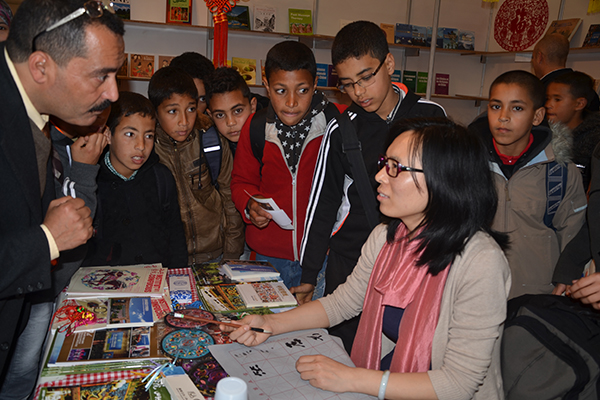 Morocco's Confucius Institute, co-founded by Shanghai International Studies University (SISU) and University Hassan II-Casablanca (UH2C), participated in the 20th Casablanca International Book Fair this February.
Casablanca's fair, known by its French acronyms SIEL, is the leading international book fair of the Maghreb and sub-Saharan Africa. This year, nearly 700 representatives of publishers from more than 54 countries participated, covering an area of 20,000 square meters.
During the book fair, children gathered around the stand, asking for stories about Hua Mulan, a legendary figure from ancient China, who took her aged father's place in the army, and Sun Wukong, or the Monkey King, a main character in the 16th century Chinese novel Journey to the West. Volunteer teacher Zhang Xiuli's demonstration of the traditional Chinese calligraphy also attracted more Chinese culture lovers.
More than 500 books were exhibited, on topics ranging from Chinese geography, history, culture, ethnicity and religion; textbooks of English, French and Arabic; to reference books like dictionaries. Chinese knot, lantern, paper-cut and the "scholar's four jewels" (writing brush, ink stick, ink slab and paper) were also displayed. The stand promoted Chinese culture, the Chinese language and the Confucius Institute, as well as China generally.
Moroccan president Abdelilah Benkirán, accompanied by Minister of Culture Mohammed Amine Sbibi, visited the Confucius Institute stand, welcomed its Chinese principal, Wang Guangda, and extended yearly invitations to the institute. Wu Shulin, China's Deputy Director of State Administration of Press, Publication, Radio, Film and Television, and Council member of the Confucius Institute Headquarters, thanked the exhibitors and praised the Institute's participation. Sun Shuzhong, China's Ambassador to Morocco, asked questions about Institute and talked with visitors. Schools and associations from major Moroccan cities, such as Agadir, Fez and Tangier, told the Institute they hoped they could cooperate with it in the future, so that Moroccans can learn more about the the Chinese language and Chinese cultures.
The stand also handed out more than 2,000 promotional booklets.
The Confucius Institute was set up in the Faculty of Arts and Humanities (Faculté des Lettres et des Sciences Humaines - Ain Chock). With the support from Confucius Institute Headquarters (or Hanban) and the Chinese Embassy in Morocco, the institute officially opened in October 2012, contributing to Chinese education and cultural exchange in North Africa.