By Yao Liyan, Dane Claussen, and Liu Jia
Originally from http://en.shisu.edu.cn/news/2014/2014,news,003518.shtml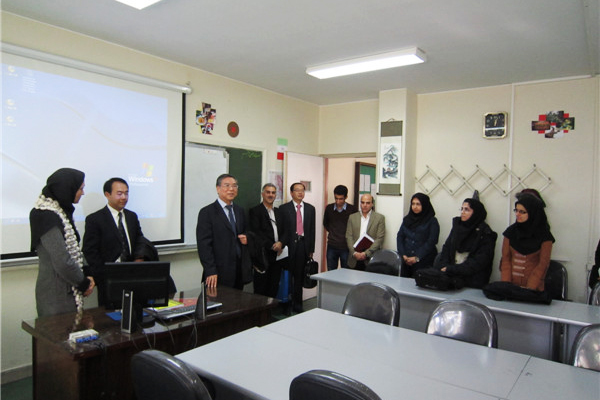 SISU advanced cooperation with Morocco and Iran after a top university official in early December visited several universities in the two countries.
Wu Youfu, University Council chair, first visited the Confucius Institute co-built by SISU and University Hassan II-Casablanca in Morocco. He thanked Chinese teachers and volunteers for their efforts to promote the Chinese language and culture. Speaking in Chinese, Wu encouraged students to learn Chinese well and to contribute to cultural exchange between the two countries.
Wu and University Hassan II-Casablanca's new principal, Idriss Mansouri, agreed to deepen the two universities' collaboration in MBA programs. Details discussed included curriculum, teaching practice, exchanges of students and teachers, mutual recognition and transfer of credits, joint degrees, and simplifying applications processes for exchange students. They planned to have a first group of two to three exchange students traveling soon.
Mansouri reaffirmed commitment to supporting the Confucius Institute, and to work to build it into the best one in North Africa, especially in the Maghreb (Northwest Africa).
Wu also discussed possible collaboration with Al Akhawayn University in Ifrane, a town in Morocco's Middle Atlas region. Despite its short history, the university is highly international, with students from all over the world and the lessons taught in English, which is rare in French-speaking Morocco.
In Iran, Wu visited Shahid Beheshti University (SBU) and met with its principal, Mohamad Mahdi Tehranchi, and Hossein Pourahmadi Meibodi, head of international affairs, to discuss cooperating on MBA programs. Wu thanked SBU for supporting SISU's Farsi language major development. Tehranchi said the university would extend its constant support to SISU to areas of post-graduate education and joint academic research. He also asked SISU to help him set up a master's program in Chinese. Wu promised to provide some Chinese books to the library after meeting Chinese teachers and some students.
Shahid Beheshti University is based in Iran but with an outlook of the Middle East, so the business administration is geographically advantaged. Wu was accompanied by Cheng Tong, first secretary of cultural department of the China's Iran Embassy.
At a welcoming banquet hosted by China's ambassador to Iran, Yu Hongyang, Yu analyzed current and potential comprehensive cooperation between China and Iran, which in China is leading to increasing demand for high-quality personnel with good knowledge of Farsi. Wu said that SISU would enhance the effort to cultivate talents to meet diplomatic needs.
Wu also visited the Islamic Culture and Relations Organization (ICRO), which directs Iran's official cultural affairs, and met with vice president Mohammad-Reza Dehshiri. Dehshiri said ICRO will continue to support Farsi education at SISU by sending qualified teachers, providing relevant books and references, and funding SISU's research center on Iran. They also talked about cooperating on academic research on Iranian culture and Sino-Iran relationship.