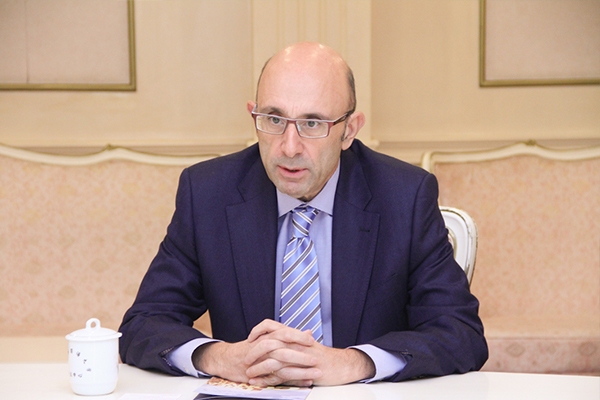 The new Greek Ambassador to China, Vassilios Costis, visited SISU on December 2 and promised further support to SISU on education and cultural exchanges between China and Greece.
President Cao Deming thanked the ambassador for supporting the SISU's development of a degree program in Greek, and told the ambassador that he hoped to continue cooperating with the Greek Embassy to expand Confucius Institutes in Greece, to advance research on the European Union, and to consolidate joint education programs between SISU and some Greek universities. Cao also said he hopes for the Embassy's assistance to hold SISU exhibition on Greek culture.
Costis said he will provide relevant books and foreign experts to SISU, after acknowledging that academic and culture exchanges are basic parts of political and economic interaction between China and Greece. The ambassador also said he would facilitate cooperation between SISU and some prestigious universities and institutes in Greece, and urged more Greek scholars to learn Chinese and get to know China.
As China's first university offering an academic program in Greek, SISU has made great contributions to promoting foreign affairs, international trade and culture interchange between China and Greece, Cao said. He added that SISU has cultivated many students who became professionals for the Ministry of Foreign Affairs, the Chinese embassies in Greece and Brussels, and the Greek Consulate in China.
Costis agreed to advance the collaboration between SISU and Greek academic institutions after Professor Zhu Shengpeng, respondent of SISU's Greek major, summarized current exchange programs between SISU and Greek universities, and SISU's Greek majors who now study in Greece.
SISU talked with the National and Capodistrian University of Athens about cooperation, including exchanges, during Cao's visit to Greece in June. Since then, SISU and the University of Thessaloniki have agreed to start cooperating, including exchanges and the opening of a Confucius Institute in Thessaloniki, Greece's second largest city.