March 4, 2013 | By ZHANG Min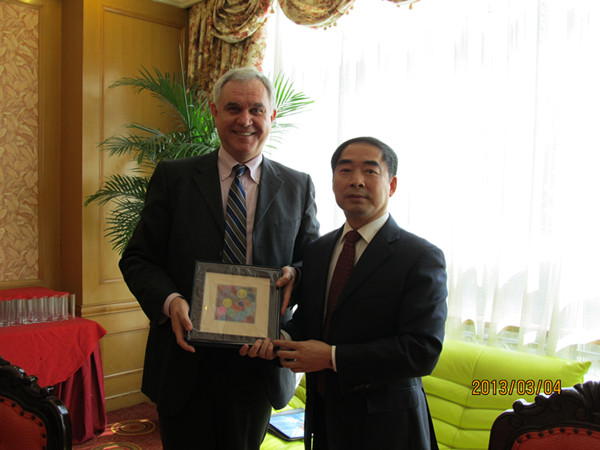 On March 4, 2013, Professor Marcello Fantoni, vice president of Kent State University visited SISU's Hongkou campus and was greeted by Professor Feng Qinghua, vice president of SISU.
Vice president Feng Qinghua listened with satisfaction to the plans of deepening cooperation between two universities; and he also accepted Prof. Marcello Fantoni's invitation to visit Kent State University later this year.
Professor Zhang Hongling, Director of Office of International Cooperation and Exchange, briefed the guests on SISU's recent international cooperation activities, including long and short term study abroad programs, joint training programs and Sino-foreign cooperative education projects. She also reviewed the achievements and experiences of two universities' 3+2 program, and exchanged views with Kent State University about several specific issues.
Professor Marcello Fantoni stated that since the inception of the 3+2 program, the two universities have kept a good cooperative relationship, and he believed that the two sides would develop more two-way exchange programs in the future.
After the meeting, the two sides exchanged gifts and took pictures together.