March 13, 2013 | By ZHANG Min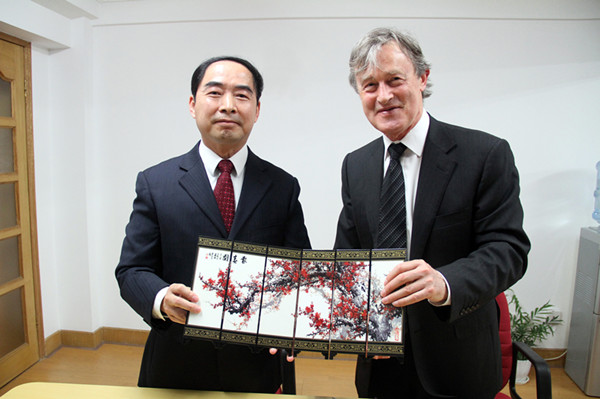 On March 13, 2013, Professor Trevor Davies, Pro-Vice-Chancellor for Research of the University of East Anglia visited SISU's Hongkou campus and was greeted by Prof. Feng Qinghua, vice president of SISU. Professor Feng introduced to the guest the host university and its foreign exchange programs. The Vice President added that SISU and UEA could collaborate in such areas as international politics, diplomacy, law and international relations with a view to improve SISU's programs of international law and international public work.
Professor Davies expressed his enthusiasm at cooperating with SISU and proceeded to introduce his home school and its Diplomatic Academy of London (DAL) which the Pro-Vice-Chancellor believed would help turn Chinese students, especially promising SISUers, to diplomatic talents. He also presented such UEA programs as environmental science, diplomacy, law, business and broadcasting media.