March 22, 2013 | By Jessica WANG Shujing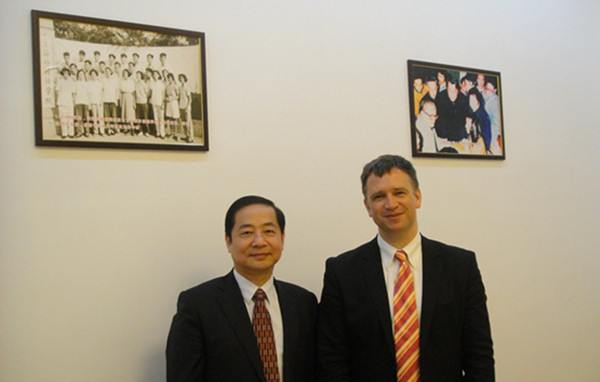 On March 22, Professor Cao Deming, President of SISU and Director of SISU's Center for European Union Studies met with Dr. Sebastian Harnisch, director of Politics Department and the chief professor on international relations in University of Heidelberg. In the meeting, current situation of SISU's Center for European Union Studies was introduced by President Cao who expressed the intention for cooperation with Politics Department of the University of Heidelberg by way of sending visiting scholars, working on research project, etc.. While Prof. Harnisch showed great willingness to explore more areas for further cooperation.
Those also present at the meeting include Prof. Zhang Hongling, Director of Office of International Cooperation and Exchange, Prof. Wang Zhiqiang, Project member of SISU Center for European Union Studies, and Associate Prof. Xin Hua.